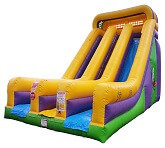 Fast Lane Double-Lane Dry Slide
$400.00
The Fast Lane Double-Lane Dry Slide is our tallest Dry Slide. It's 22 feet tall and 30 feet long.

The dual lanes on this slide will allow countless riders to climb up and slide down on both sides which prevents anxious riders from having to waiting in a long line. The Fast Lane Double-Lane Slide is unarguably our best amusement for large events.

Don't forget to add the Fun Foods to your shopping cart. After guests climb and slide numerous times they will be glad to have these classic refreshments available.
Unless otherwise noted on the description for the individual unit the Fast Lane Double-Lane Slide rents DRY only. Water on unit will incur additional cleaning cost.

Requires 2 GFCI three-prong electrical outlets on separate circuits within 75 feet for blower power. Click

HERE

for information on what a GFCI three-prong electrical outlet is.

Requires level ground with no overhead obstructions such as power lines or tree limbs.


SAFETY RULES

ADULT SUPERVISION REQUIRED AT ALL TIMES

No sliding head first, rider should be seated on their bottom, arms folded across chest and slide down feet first.
No double sliding on any single lane slide
Landing area should be clear before next person slides down.