Frosty the Unicorn
$199.99
Dimensions:
Set Up Area:
Outlets:
(Please note that Frosty the Unicorn is a Small Pony and has a weight limit of 50 pounds)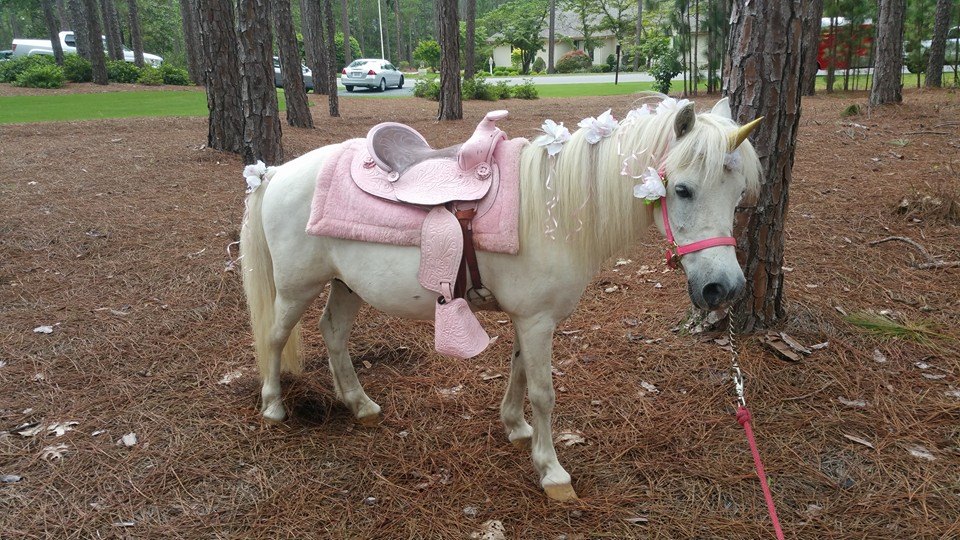 Every little princess needs her very own unicorn to share with her friends! Make her princess dreams come true with this magical unicorn that will allow imaginations to come to life right in your own backyard. Frosty has a custom made pearly white horn with gold accents. The "horn" mysteriously stays in place under Frosty's hair with its' ribbons that fasten to Frosty's halter. The horn does not harm or bother Frosty and it is also designed to be safe around children. Frosty has pink hair added to his mane and tail and also wears a custom made pink saddle with a pink saddle pad.

Save money AND make her event even more magical by selecting the "Unicorn and Princess Party Package" which includes the Blue Princess Bounce Combo Bounce & Slide. Go to the Packages & Specials Category to see all of your time and money saving options.

For even more of a magical event be sure to add on everyone's favorite Fun Foods.
Please keep dogs inside for the duration that the pony is present on the premises.
Please plan a ride area away from inflatables, grills, trampolines, and other busy activities.
Pony Rides require level ground that is free from any holes, trip hazards.